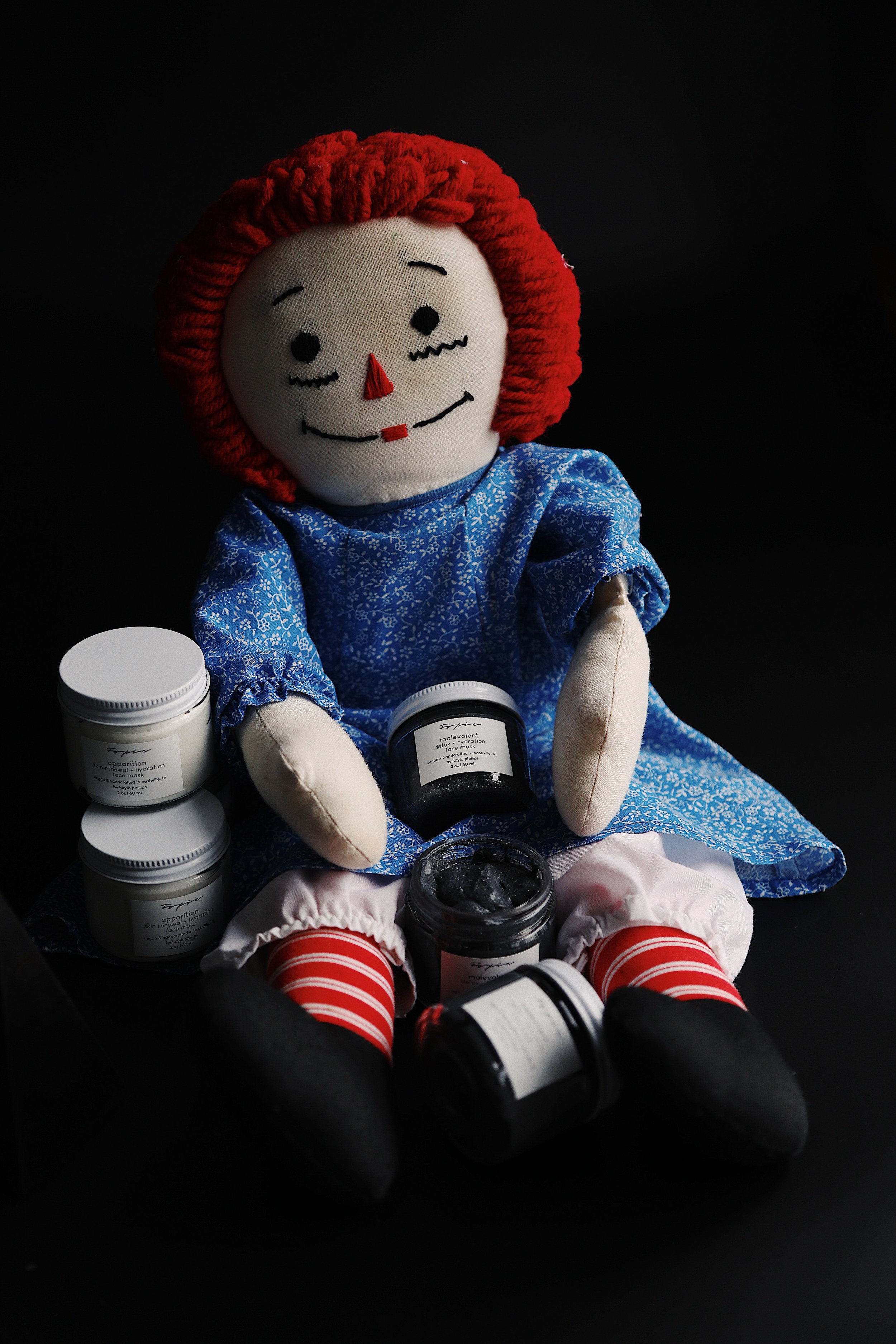 MALEVOLENT
A dark charcoal mask for skin renewal, hydration, and moisture. MALEVOLENT combines yeast with creamy clays, charcoal, and other botanicals to give your skin a new, healthy and hydrated appearance. Wipe away dead skin to reveal glowing skin and cleansed pores.
A matching mask to APPARITION with added Activated Charcoal to detox your pores even further.
2oz
sold out
Unique Foxie Complex of Natural Active Ingredients: Induce exfoliation & skin cell renewal. Makes the skin look firmer, rejuvenated, and improves skin clarity. Reduces fine lines. Contains Yeast.
Shea Butter (Comedogenic Rating - 0 - Will Not Clog Pores)
Incredibly nourishing and moisturizing for radiant skin. Helps protect the skins natural oils. Helps rashes, scars, eczema, psoriasis. Sun damage. Soothing.
Lavender + Chamomile Hydrosol:
Antibacterial – Lavender has got antibacterial and antiseptic properties that rid skin of germs, bacteria and microbes that contribute to acne.
Skin Soother – Being gentle on skin of all types, lavender can be used to soothe red, itchy and painful acne.
Anti-inflammatory – The powerful anti-inflammatory properties of lavender make it good for naturally healing acne inflammation and redness.
Balances Sebum – Spritzing lavender hydrosol on acne-prone skin helps control excess oiliness as well as seal moisture in dry skin underneath acne. It's natural astringent properties help balance the skin's sebum preventing over production of sebum, which contributes to acne by clogging pores.
Ingredients: Water, apricot kernel oil, Glucosamine HCL, Laminaria Digitata extract, Saccharomyces Cerevisiae extract, Urea, Shea Butter, Kaolin, Helianthus Annuus (Sunflower) Seed Oil, Calendula Officinalis Flower Extract, Helianthus Annuus (Sunflower) Flower Extract, Aloe Barbadensis Leaf Extract, Chondrus Crispus Extract, Althaea Officinalis Root Extract, sodium pca, glyceryl stearate, stearic acid, ceteareth-20, cetearyl alcohol, cetyl alcohol, caprylyl glycol, hexylene glycol, panthenol (provitamin b5), tocopherol (vitamin e), ascorbyl palmitate (vitamin c), ascorbic acid (vitamin c), activated charcoal, citric acid Chamomile, Lavender